by MarginFuel, on Dec 21, 2021 7:41:52 AM
How did we find ourselves at the end of another year already?
Much like 2020 before it, 2021 has been a year marked by unprecedented disruption. The Covid-19 pandemic we would all have loved to see in the rear-view mirror continues to rewrite the history books for all industries, with few impacted more than tourism.
Government policies to stamp out the virus have had mixed success as each country and region adapts to their unique situations. While global vaccination rates climb and travel restrictions ease, it has become increasingly clear that we will be living with Covid rather than stamping it out for good, and travellers and tourism operators must implement their own hygiene strategies and safety protocols.
What's also clear is that travellers, armed with vaccine passports and easy access to rapid testing, are willing to hit the road again. Flight demand for most regions is on the rise, and car rental operators that have built data-driven forecasting and pricing models are in a great position to increase revenues in the new year with the right price optimisation tools.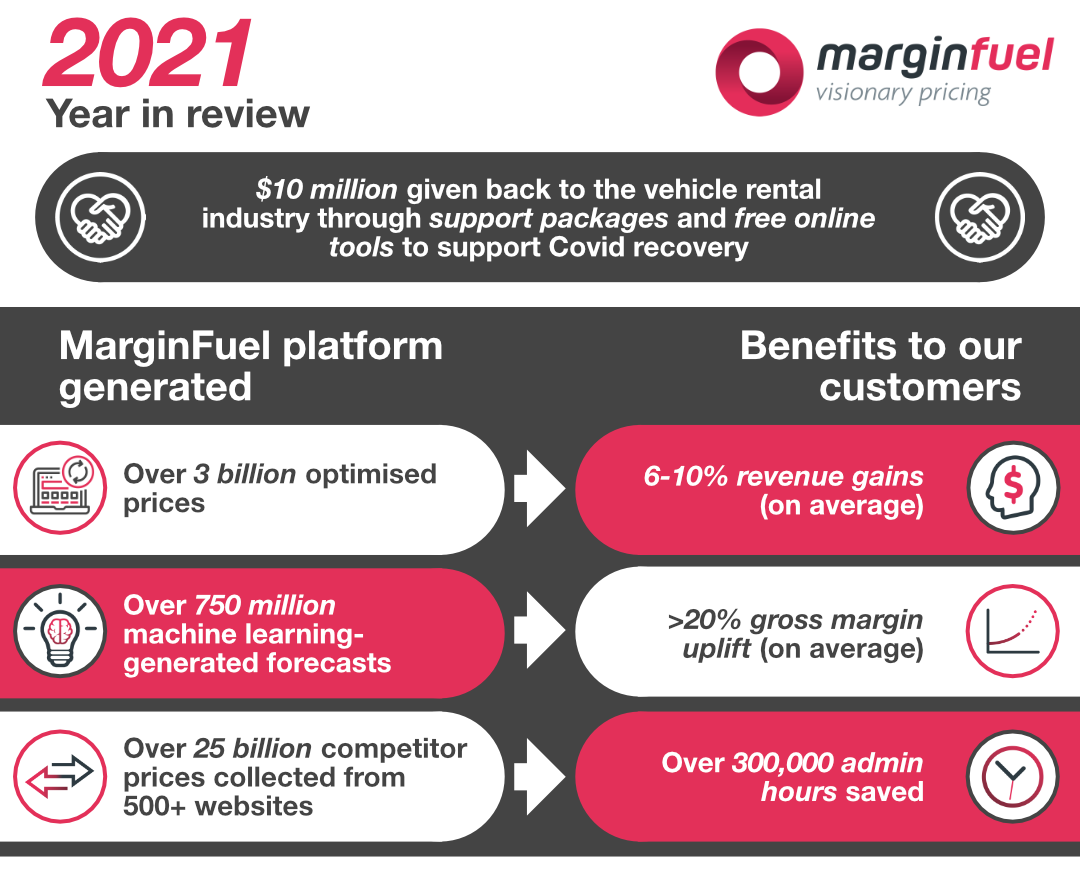 A huge year for

MarginFuel
While the pandemic has presented innumerable challenges for the MarginFuel team, we have taken this unique opportunity to build. We've refined our platform with more robust competitor and demand data sets, developed our forecasting capabilities and grown our skillset with key hires in our data, business development, customer support and marketing teams.
All of this growth has been in support of one goal —helping more customers modernise their pricing strategies than ever before. MarginFuel's platform is now integrated with car rental operators and OTAs both large and small, with in-depth demand forecasting and pricing data delivering massive revenue growth.
Two years on from the onset of Covid the car rental industry is still finding its feet, but we've been inspired by how the resilient market not only survived but is thriving. MarginFuel is proud to be a leading provider of recovery efforts, and over the course of the pandemic we have provided many hours of free customer support, high-value online tools and Covid support packages for several operators.
Our free Country Market Insights and Global Car Rental Pricing & Demand Insights tools are helping operators navigate the turbulent waters of Covid-related travel restrictions, and as more countries re-open for business these tools will be essential for staying ahead of the curve. We'll continue to add to these tools in 2022, offering more locations in our Country Market Insights across Europe, Asia and the Americas.
A huge thank you to everyone who has been part of the MarginFuel journey this year. Here's to an exciting 2021 and an even better 2022 and beyond!